Weihai, Liugong Island, Aerobus Transit Project
The city of Weihai has chosen Aerobus China Inc. (a subsidiary of Aerobus International) to provide the transportation solution for its unique city!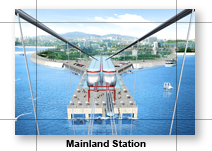 The Aerobus transit system installation will cross Weihai Bay and connect Liugong Island to the downtown section of Weihai. This entire 4.2 kilometers system will be built over water.
The coastal city of Weihai is located at the eastern tip of Shandong Peninsula. Weihai is a well known port and tourist city in China, is one of the coastal open cities and the first National Environmental City in China. Weihai is also one of the first National Model Cities for Environmental Protection. Weihai covers and area of 5,436 square kilometers and has a population of 2.47 million people.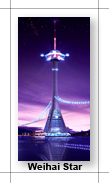 Liugong Island is located in the Weihai bay, 20 minutes from the mainland by boat, Liugong Island, also called "the unsinkable battle ship", and is surrounded by Weihai Bay.
This Aerobus system will consist of dual guideways stretching a distance of 4.2 kilometers in each direction. (Anchor to Anchor) This route will have 9 spans with the largest being 620 meters in length. Eight pylons will be used to support the guideway. Seven will be of standard design. The tallest standard pylon will be approx 100 meters high.
Three stations will be constructed to provide passenger access to the transportation system. The first station will be located on the mainland in the downtown business/tourist district of the city.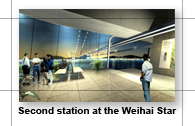 The second station will be incorporated into a viewing tower and will serve as a special pylon. This particular tower/pylon will be called the Weihai Star. It will have a total height of 257 meters with a viewing level at a height of 208 meters.
Island Station
The third station will be located on the island, providing round trip access to and from the city. The private owners of this Aerobus Project intend to utilize all stations for commercial and retail development.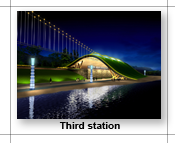 Initially, the system will use three electrically-powered Aerobus vehicles. Each vehicle will consist of three to four modules and will be manually controlled, running on double-lane guideways in either forward or reverse direction. The modules are self-contained, with individual motors and independent air-conditioning systems designed to maintain interior temperatures of 18 to 27 degrees Celsius.

Overall, the Aerobus vehicles will carry up to 5,000 passengers per hour, per direction, at speeds as high as 50 miles an hour.
Aerobus is a tested and proven suspended light rail mass transit system for use in both urban and suburban settings. Aerobus installations are non-polluting, environmentally sound, and less costly than conventional elevated rail projects.
The heart of Aerobus technology is the use of a suspended steel track, which may be located at any desired height above ground level. This track is hung from a pre-stressed cable using a suspension system similar to that employed by the Golden Gate Bridge.
Unobtrusive pylons lift the cable into the air to form a dedicated pathway that passes above highway interchanges, spans rivers as well as deep ravines, and can run down the center of existing freeways without impeding traffic flow. This allows an Aerobus line to take the most direct, and therefore least expensive, route between two points.
For more information about the Weihai, Liugong Island project, contact Dennis Stallings, Aerobus President at Stallings@aerobus.com .